Were you caught in a hailstorm?
Hail Damage Repair and Replace
If your car has flooding damage, water damage or windstorm damage. Drive Auto Collision can walk you through the process and help you get your vehicle properly repaired!
Hail Damage Repair Services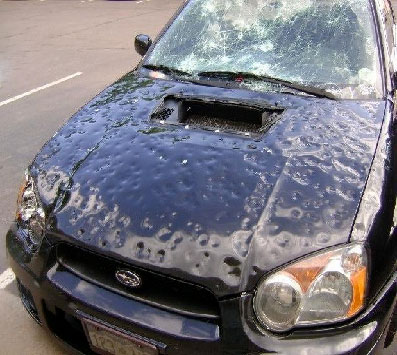 Hail Damage Repair Using PDR
If you're unfortunate enough to have left your car out in a hail storm, you'll soon be face with both insurance headaches and a car that resembles a golf ball. For this situations and most others we use paintless dent repair, because it saves money and time. It is called paintless dent repair because there isn't any mayor surgery done to the car.  This method involves our highly trained experts massaging every dent from the opposite side of the dent till our tech works the dent out. PDR works best if you have it done as soon as possible, so call us today.
More Than One Way To Repair a Dent
Depending the coverage of the damage, your insurance could even consider the car a total loss. We work with the insurance to determine the best solution. In the small chance that paintless dent repairs isn't possible techs weld thin rods and use a machine to pulls the dent out. Our techs are fully trained and have a verse tools and techniques that allows the to restore any car to it's original state.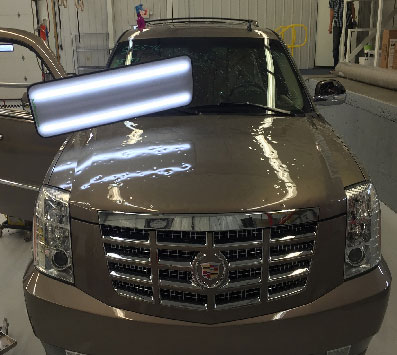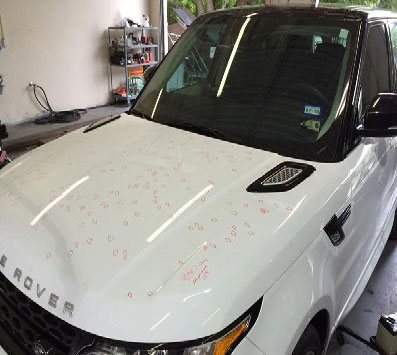 Hail Damage Repair is Covered by Insurances
Traditional dent repair fills in auto body dents with paint or body filler, which is then painted to match the rest of the vehicle's exterior. Traditional dent repair doesn't address the actual dent in a way that is a sustainable, long-term solution. It's also time-consuming, expensive and can impact the re-sale value of your vehicle.
Paintless Dent Repair, on the other hand, requires no fillers and no sanding. More and more consumers are finding PDR to be an effective and inexpensive alternative to getting minor repairs done at a body shop. PDR offers more "bang for your buck" than traditional dent repair methods and is a great way to care for your vehicle's exterior affordably.
Don't just take our word for it
Read Some of the Feedback
Service was on time. Staff and owner very kind, helpful, respectful and professional. My car looked BRAND NEW and drives like a dream after having the entire front passenger side crushed in! Worked diligently with my insurance and kept me up to date. Didn't mind any questions or drop-bys while working on my car. And they were able to help with my deductible. I will definitely be coming back for any future auto repairs necessary. Thanks so much, guys!
I had an accident and my suspension was completely wrecked. Cracked the wheel as well and had damage to the body. I couldn't believe how amazing the repairs were just picked up the car I have a 2014 BMW 535i and put it through it's paces on the loop. It ran beautifully. These guys definitely know their way around European cars. Looks like a small shop but quality and customer service is amazing. Wouldn't take my car for repairs anywhere else after this experience.
Alfredo, "Freddy," the owner helped me out of a big jam with my 350Z. This guy is the TOP plastic surgeon of cars in El Paso. I HIGHLY recommend him!
LITTLE KNOW FACT ABOUT DRIVE. THEY DO CUSTOM WORK TOO!!! NOT ONLY WILL THEY FIX YOUR CAR, THEY ALSO HAVE THE ABILITY TO BUILD THE CAR OF YOUR DREAMS!!!
Alfredo Rios is EXTREMELY professional, pleasant, and courteous. The whole staff takes good care of you, and they are great with prices. I highly recommend this shop. They are honest, great ppl. He's the plastic surgeon of cars in El Paso. They declared my car totaled, and he fixed her like new. It's been 2 years and no problems.
Did an awesome job on my 2016 Dodge Ram. Other body shops didn't even want to touch it, but they made it look like new!!!! Thank you guys!!!!