Dent Repair big or small
Car Dent Repair.
Drive Auto Collision Is Here to Tackle Auto Body Needs This Upcoming Winter Regardless of Insurance Provider.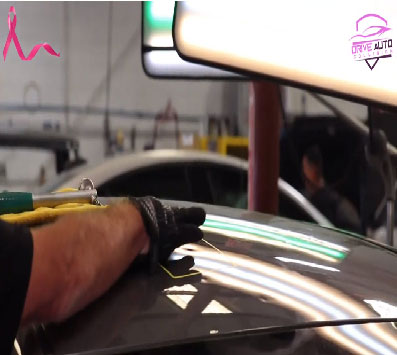 Our Professionals are Adept at Fully Repairing any Dent.
There are several ways to "fix" a dent, most collision centers use the traditional way over PDR (Paintless Dent Repair). The traditional way collision centers "restore" the dented panels back to their original shape is by thrilling holes into the car panels to pull the dents out, then the paint will be sanded before the body putty is applied.
The dents will be filled with putty, and in most cases, don't exactly match the metal's original finish. Next the car will be spray-painted, although the paint might not match the exact color of the vehicle, and the car will be "baked" in an oven to set the new paint, and the car's finished surface is polished. This is not only more expensive and takes more time but it doesn't fully repair the area. We are proud to be one of the few collision center that use Paintless Dent Repair to fix any dent.
Not Every Dent Repair Uses or Requires the Same Solution.
We use and will always use the more modern option to repair the dents without affecting your vehicle's factory paint. We do this not only to save on time and money but because it keeps your car closer to how it rolled out of the factory.
We use PDR which is commonly known as Paintless Dent Repair or Paintless Dent Removal. The process starts with the dents being pushed out from underneath the panel or pulled from the front without affecting the car paint. Metals that push out higher after this procedure are tapped back into perfect alignment. We use special tools to match the original contours of the vehicle.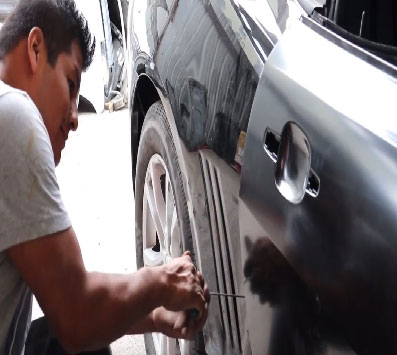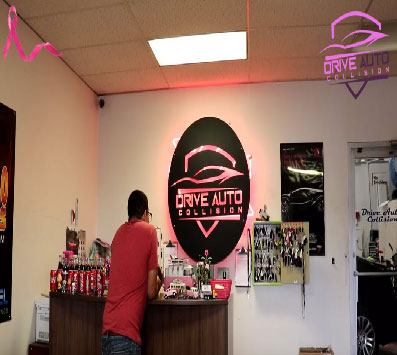 We can Help you Submit your Claim and get your Dents Repair.
Car dents may not be a serious problem that can affect your vehicle's performance, but they can still affect your car's appearance and market value just the same. Luckily, they can easily be removed by our experts and as always everything dent we fix comes with our warranty.
Don't just take our word for it
Read Some of the Feedback
Service was on time. Staff and owner very kind, helpful, respectful and professional. My car looked BRAND NEW and drives like a dream after having the entire front passenger side crushed in! Worked diligently with my insurance and kept me up to date. Didn't mind any questions or drop-bys while working on my car. And they were able to help with my deductible. I will definitely be coming back for any future auto repairs necessary. Thanks so much, guys!
I had an accident and my suspension was completely wrecked. Cracked the wheel as well and had damage to the body. I couldn't believe how amazing the repairs were just picked up the car I have a 2014 BMW 535i and put it through it's paces on the loop. It ran beautifully. These guys definitely know their way around European cars. Looks like a small shop but quality and customer service is amazing. Wouldn't take my car for repairs anywhere else after this experience.
Alfredo, "Freddy," the owner helped me out of a big jam with my 350Z. This guy is the TOP plastic surgeon of cars in El Paso. I HIGHLY recommend him!
LITTLE KNOW FACT ABOUT DRIVE. THEY DO CUSTOM WORK TOO!!! NOT ONLY WILL THEY FIX YOUR CAR, THEY ALSO HAVE THE ABILITY TO BUILD THE CAR OF YOUR DREAMS!!!
Alfredo Rios is EXTREMELY professional, pleasant, and courteous. The whole staff takes good care of you, and they are great with prices. I highly recommend this shop. They are honest, great ppl. He's the plastic surgeon of cars in El Paso. They declared my car totaled, and he fixed her like new. It's been 2 years and no problems.
Did an awesome job on my 2016 Dodge Ram. Other body shops didn't even want to touch it, but they made it look like new!!!! Thank you guys!!!!